We've been selling, installing, servicing and repairing heaters across Bendigo for over 12 years. We're experts with Daikin, Rinnai, Brivis and Bonaire, because we know they're the best.
We supply electric heaters and gas heaters, split systems, gas log fires, wood fires, hydronic heading, ducted reverse cycle, space heaters, gas ducted heaters indoor radiant heaters, and outdoor radiant heaters.
We're experts in providing top quality heating units and
installation, offering a range of top quality brands that we stand behind.
If you're shivering this winter, get in touch and we'll get a new system installed.
Heater Repairs and Servicing
At Holloway Air, our servicing technicians are specially trained and qualified in gas servicing and repairs.
We are the warranty agents for every brand we sell because the manufacturers trust us with their product.
We repair and service all brands of heaters
At Holloway Air, we stock the top brands in heating. We measure and quote each job, to ensure that you get a heater that suits the size of your home.
When the unthinkable happens and your heating stops working, we'll be there to fix it for you.
We'll get your home heated again in no time.
It's so important to protect your family from toxic gases, and get your gas heater serviced regularly.
We do onsite testing and servicing, so that your family is safe.
Lopi wood burning stoves offer the best in quality and performance. Manufactured in America, your new Lopi wood fire heater has been crafted with the best quality cold rolled steel, and processes to ensure your Lopi Wood Heater lasts for many years to come.
Visit our show room at 3 Merino Court East Bendigo, to see the wood heaters on display. Holloway Air Bendigo, your wood heater experts.
When the temperature drops, nothing appeals more than a cosy fire.
The Rinnai range of gas fireplaces offer everything you love about having an open fire, without all the hassle that goes with it. No chopping wood!
Designed with installation flexibility in mind, Rinnais modern gas fires suit a wide range of applications. They can easily fit into new homes or existing fireplaces and replace old heaters.
Contemporary and efficient, Rinnais gas log fires are a must-have addition to bring warmth into your home.
Hydronic heating is a luxurious and highly energy efficient way to heat your home. The system is silent to run and the best product out there for allergy or asthma sufferers as there is no circulation of airborne particles through ducts and vents.
Flexible options include designer radiator panels or under floor slab heating and the ability to control individual room temperatures to suit your family and lifestyle. Visit our showroom to discuss your tailored solution with one of our friendly staff.
A ducted split system, also referred to as ducted reverse cycle is the ultimate in total climate control for your home.
With the ability to heat and cool your entire home in one unit, and set your desired temperature, you can ensure complete comfort for you and your family year round.
Zoning your unit can reduce your running costs by only heating and cooling those rooms you are using.
MyZone is an additional zoning add on to your unit that Holloway Air offers. 
MyZone offers wifi capabilities and gives you the ability to have each room of the house temperature controlled. 
Kids get too cold at night, but you tend to run hot? You can set each bedroom to its own individual temperature. You also have the ability to turn the rest of the house off to keep down those running costs. All controlled from your smart phone.
Visit our showroom at 3 Merino Crt Bendigo East to view our MyZone display.
A reverse cycle split system is a convenient way to both heat and cool a single room.
Offering different styles of units and the latest technology to suit both domestic and commercial applications, they are a stylish and quiet addition to any home or office.
Many split system air conditioners now offer wifi capabilities, giving you greater control over your climate with energy efficient ratings of up to 5 stars.
We offer a free size and design service to ensure you are getting the best split system heater for your needs.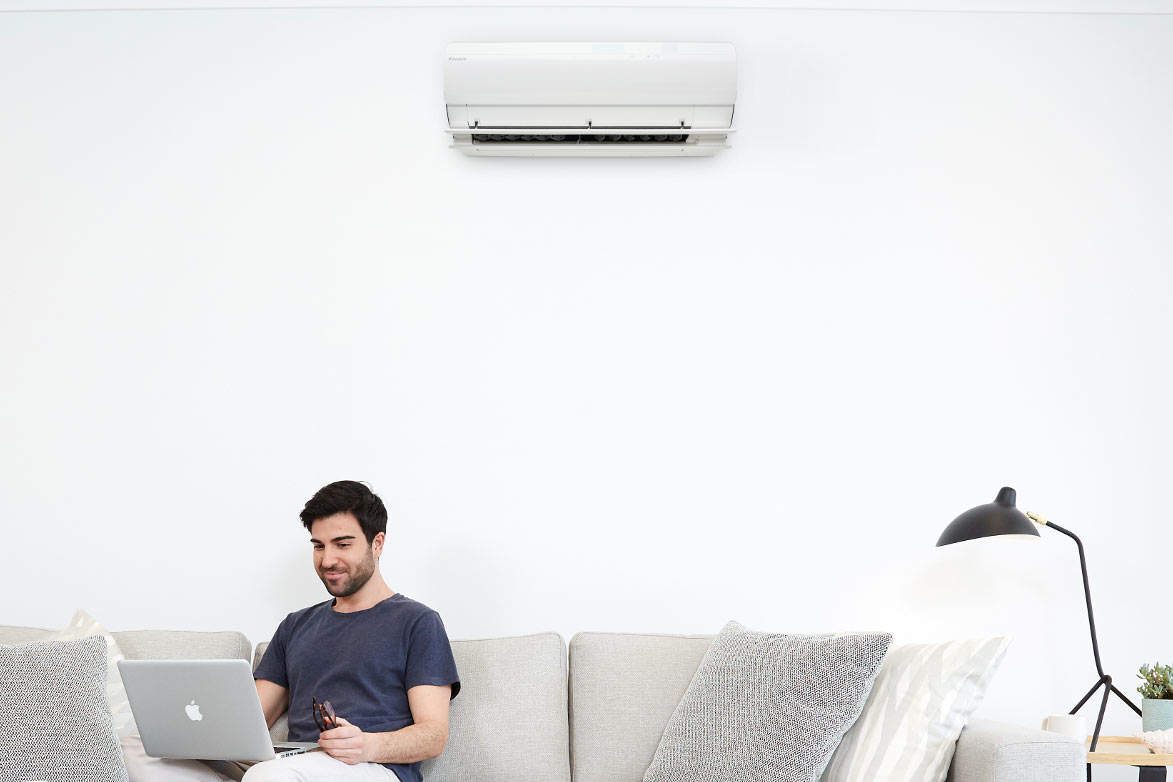 Gas space heaters are designed to be a highly efficient and effective form of heating your home. In Australia, heating and cooling amounts to 23% of the homes energy usage, so how you are planning to heat and cool your home should be carefully considered. Gas is one of the most greenhouse friendly fuel sources and a cost effective way to heat your home.
Download the Rinnai space heater brochure here  
Ducted gas heating is a whole home solution that allows you to heat the whole house using just one system.
The heating unit can be installed in the roof space or outside the home with outlets installed either in the ceiling or floor.
With the ability to zone areas in your home, gas ducted heating is a cost effective option for total home comfort.
Slimline and minimalist, Rinnai's electric panel heaters provide instant warmth at the touch of a button. Available in three model sizes, they're suitable for any part of the home including bedrooms, lounge rooms and even bathrooms.
The perfect solution for renters. Available with wall mounting brackets and castor wheels.
The ultimate in backyard entertaining through the colder months. Outdoor Radiant Heaters provide comfortable warmth with silent operation.
Engineered for Australia's tough climatic conditions, these heaters are constructed from high quality materials that will maintain the stylish appearance throughout years of use.
Gas heaters should be regularly serviced, not only to ensure efficiency and save on running costs, but to ensure the safety of your family. We service and maintain all manner of gas heaters including testing for harmful emissions.
We service any make and model of heater. A yearly service of your heater not only extends the life of the unit, it ensures efficiency and guarantees the safety of you and your family.